Dufy, Vase with Bathers and Swans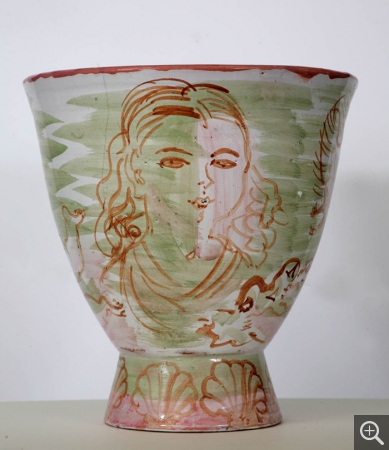 Raoul DUFY (1877-1953)
Vase with Bathers and Swans
1930
ceramic
h. : 29.5 cm / diam. : 29.5 cm
© MuMa Le Havre / Charles Maslard — © ADAGP, Paris, 2013

Raoul Dufy (1877–1953) began working on ceramics with Spanish artist Llorens Artigas (1892–1980) in 1924. The two men immediately understood one another and the ceramist appreciated the painter's fanciful decorative style and talent. Of the two hundred or so pieces that comprise Dufy's ceramic work, most are the result of a collaborative effort between the two artists. The entire production is characterized by vases of a comparable shape and size and a few tiles featuring a colourful decor by Dufy. He worked very little with the actual substrate. Only a few specific pieces, such as his "apartment gardens", are both decorated and sculpted by the artist.

His themes of choice are shells, fish, swans and bathers, endlessly repeated around the body of the vases. The Vase with Bathers and Swans is in keeping with this production so typical of Dufy. With great freedom of line, the artist brings to ceramics a technique perfected in his paintings starting in 1924: the dissociation between the drawing and colour. There are many similarities between painting, fabric and ceramics, not only in the chosen motifs, but also in their repetition. The bather, who returns time and time again in both his paintings and his ceramics, is joined here by a swan and stylized shells.

This form of cooperation between ceramists and painters, which began at the turn of the 19th century, reached its height around 1907–1910. At the time, a number of Fauve painters, including Derain, Vlaminck, Matisse, Friesz and van Dongen, would gather at the studio of André Metthey in Asnières. It was not until Dufy and Artigas began working together that such a fruitful cooperation would be seen again, reaching its most accomplished level in the immediate post-war period with the creations of Picasso.



Raoul DUFY (1877-1953), Vase with Bathers and Swans, 1930, ceramic, h. : 29.5 cm / diam. : 29.5 cm. © MuMa Le Havre / Charles Maslard — © ADAGP, Paris, 2013

Raoul DUFY (1877-1953), Vase with Bathers and Swans, 1930, ceramic, h. : 29.5 cm / diam. : 29.5 cm. © MuMa Le Havre / Charles Maslard — © ADAGP, Paris, 2013