Dufy, Jeanne with Flowers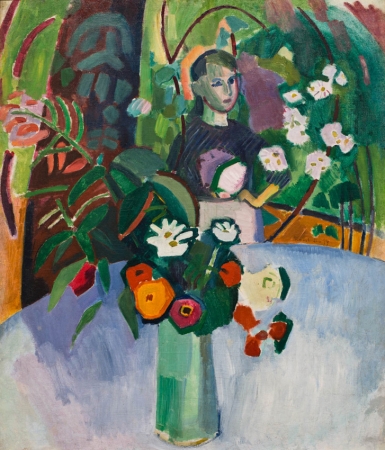 Raoul DUFY (1877-1953)
Jeanne with Flowers
1907
oil on canvas
90.5 x 77.5 cm

© MuMa Le Havre / David Fogel © ADAGP, Paris, 2013

Raoul Dufy (1877–1953) was born in Le Havre to a large family of modest means with good taste in music and painting. Although he was working to support himself by the age of fourteen, he was also enrolled in evening classes at the local École des Beaux-Arts. In 1900, Dufy received a scholarship from the city of Le Havre to pursue his studies in Paris. Preferring galleries to the Louvre salons, he discovered the work of the Impressionists and became fascinated with the painting of Pissarro and Monet.
With a theme that approaches Impressionism, Jeanne with Flowers is a monumental work entirely built around colour. Evoking the garden of his family home in Le Havre, it is part of a set of paintings on the same theme produced between 1905 and 1907. Ambitious in size, the artwork is the only one in the series to include a person, likely one of the painter's young sisters. Dufy transforms the garden into a laboratory for experimenting with colour, which is applied in solids, structured solely by the decorative swirls of the plants and flowers.

The illusion of a certain depth is maintained through the different planes formed by the table, the ground and the foliage. The vase of flowers links the abstract nature of the foreground with the background crowded with plants and flowers. In the centre, the silhouette of Jeanne emerges from a space of curves and reverse curves created by the branches and stems of the garden's vegetation. The green of the young woman's face and the yellow of her arm create a unity of tone and a thorough merging of the different motifs. The tight framing conveys the confined space and the tabletop painted in broad vertical strokes appears pulled down to the front the painting. The pyramidal composition, the overall strength of colour and the suppleness of the plant stems liken this painting to the decorative explorations of Matisse at the same time and herald the textile works Dufy would create three years later with the couturier Paul Poiret.