VALLOTTON, Roman Bridge at Cagnes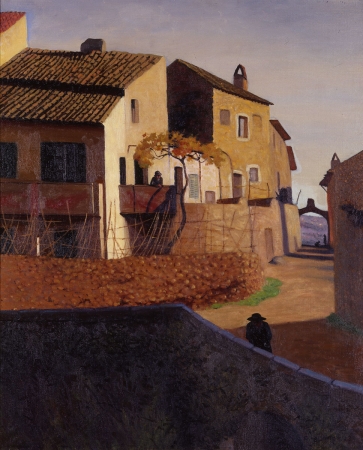 Félix VALLOTTON (1865-1925)
Roman Bridge at Cagnes
1923
oil on canvas
73.5 x 60 cm
© MuMa Le Havre / Florian Kleinefenn

From the shores of Lake Geneva during his childhood to the Mediterranean and Normandy, in Russia, in Italy, often as a distraction from his existential difficulties, contact with nature was a regular source of nourishment for the art of Félix Vallotton. A tireless hiker at the turn of the century, Vallotton renewed interest in space and, in 1903, began laying the groundwork for a conception of the landscape that he would follow for the rest of his life.

After Renoir, Vallotton discovered Cagnes during the winter of 1920–1921. Steeped in the atmosphere of Honfleur and the banks of the Seine, he felt "disoriented by the light", but charmed by "this part of the country [...] Cubist in essence." Here the flat swathes of colour from the Nabi period are subtly nuanced, from the commanding foreground to the dark archway and the washed-out sky. The stone edges in vertical succession endlessly repeat the pattern of imbricated rectangles, all the way to the opening towards the exterior via the bridge, a structuring feature in most of the Cagnes landscapes.

The surface grid, exacerbated by the contrasting areas of shadow and light, is brought into play with the interlocking shapes in the depth of a curved space that contains the mauve rectangle of the mountain in the most distant background.
The winter sun casts long shadows, upheld by the blue-grey curve of the bridge and the tree line connecting the foreground and background. The graphics of the tiles match the decorative surface of the stone wall. The loose reed fencing marks the outline of the wall with negative space and then positive space, from left to right. Bathed in a surreal, pale and ochre light, the patch of green grass echoes the touch of bright orange in the roof in the upper left corner.

In 1916, Vallotton wrote in his diary, "I dream of painting that is free from any literal following of nature. I would like to recreate landscapes only with the aid of the feeling which they evoked in me, a few basic big lines and one or two details selected without any precise connection with time or lighting."
In this modern version of the "historical landscape" so dear to the deeply spiritual painter, Vallotton incorporates all of his accumulated experiences with mastery of form and values in a condensed space where freedom of colour reigns.