SÉRUSIER, Still Life with Reeds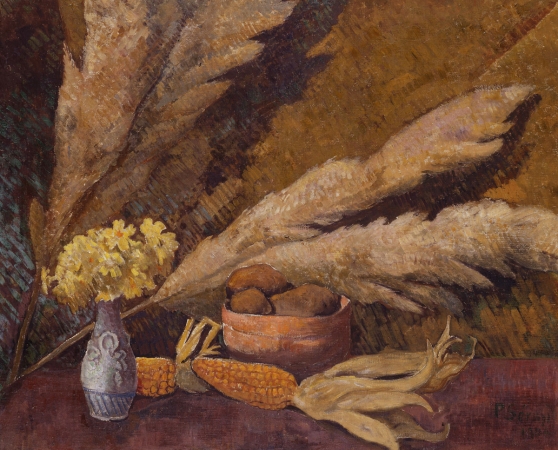 Paul SÉRUSIER (1864-1927)
Still Life with Reeds or Primrose and Corn
1904
oil on canvas
60.5 x 73.5 cm
© MuMa Le Havre / Florian Kleinefenn

Still Life with Reeds, painted in 1904, is highly representative of the investigations Paul Sérusier made into the portrayal of inanimate objects. Like the Cubists, he worked with a limited palette. The monochromes of ochre and green developed here may nevertheless be misleading. While he limited the variety of colours he used for his still lifes, Sérusier adopted a specific tone for each painting, which differed fundamentally from the Cubist approach with a primary interest in the subject.

Indeed, Still Life with Reeds does retain interesting links between the background and the reed branches, but its aim above all is to compose a visual image in keeping with the surface flatness of the painting. True, his painting is cerebral, but it shares little in common with the Cubist desire to push realism to its very limits. In the foreground, Sérusier restores the balance by placing the ear of corn at a penetrating angle, thus applying his principles to the letter: "In a drawing, any diagonal line upsets the balance: you have to restore it with one or several diagonal lines in the opposite direction."

The rounded shape of the small bouquet of primrose and the basic fruit bowl holding the potatoes serve as musical counterpoints to strengthen the balance of the painting. They are what give the composition room to breathe by defining the intermediate planes where the air circulates. The use of light greys, so dear to the artist, enables him to obtain a painting with pure luminosity, as well as highly visual effects, particularly with the potato motif that seems to float almost weightlessly in the centre. With such an artwork, Paul Sérusier truly earned the praise he received from critics as one of the greatest still-life artists of his time.