Bonnard, Interior at the Balcony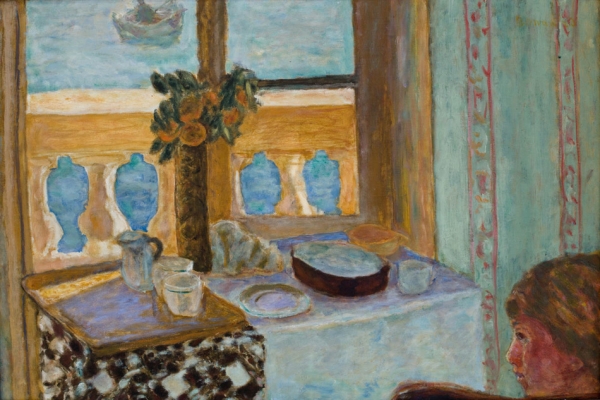 Pierre BONNARD (1867-1947)
Interior at the Balcony
1919
oil on canvas
52 x 77 cm
© MuMa Le Havre / David Fogel

After completing his studies, Pierre Bonnard (1867–1947), like Vuillard and Vallotton, joined Maurice Denis in the Nabis, a group inspired by Sérusier. Attracted by Japanese art, Bonnard transformed his pictorial vision, adopting strong flat tints and above all an offset organization of space that excludes the effects of perspective.

In June 1909, Pierre Bonnard discovered the south of France on a visit to his friend, the painter Manguin, in Saint-Tropez. Fascinated by the dazzling light of the Mediterranean, he returned the following summers to paint the region's landscapes. This is where he met Signac and Renoir.

Painted in 1919 in the dining room of the villa in Antibes, Interior at the Balcony allows a glimpse into the intimacy of a familiar place with a half-open window looking out over the blue sea. The frame tightens around the bright light reflecting off the water and casting a bluish tinge on the tablecloth and crockery. From the shadowy family interior to the sunny horizon, the path of light invites the eye to move between the two spaces. On the table, a small, motionless animal, a Pekingese dog or kitten, is nestled against a cylindrical vase holding a branch of orange blossom. Slightly out of frame in the lower right corner of the painting, the profile of Marthe Bonnard, the painter's wife and model, lost in thought lends the artwork a touch of mystery. The painting thus acquires a universal scope in that it depicts a quiet, intimate moment of contemplation on the seascape and the Mediterranean light.