FLANDRIN, La Pavlova and Nijinsky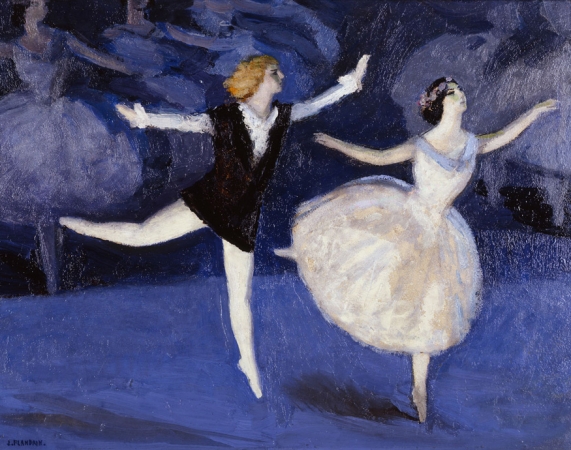 Jules Léon FLANDRIN (1871-1947)
La Pavlova and Nijinsky
1909
oil on board
52 x 67.3 cm
© MuMa Le Havre / Florian Kleinefenn — © ADAGP, Paris, 2015

Born to an old family from Grenoble, Jules Flandrin quickly left school and moved to Paris in 1893. He began studying under Gustave Moreau at his studio in 1895, where he met Marquet, Matisse and Rouault with whom he exhibited works in the famous "Cage aux Fauves" at the Salon d'Automne of 1905. An avid concert- and theater-goer, Jules Flandrin discovered dance at the premiere of Le Pavillon d'Armide in 1909 at the Théâtre du Châtelet. La Pavlova and Nijinsky was painted following the performance of Les Sylphides by the Ballets Russes on June 2, 1909. Sergei Diaguilev's dance company created a sensation throughout Parisian society, which fell under the spell of the young Russian prodigy, Vaslav Nijinsky. He is accompanied by the prima ballerina Anna Pavlova and the corps de ballet faintly visible in the background.

In this masterly composition, the famous couple appears in the spotlight in the foreground. Nijinsky, "like a black and white butterfly near the sylphs", his long hair worn loose, seems to take flight with a wholly feminine grace. He was the first male dancer to rise "en pointe", a practice that had been reserved for ballerinas.
In a letter to his mother dated June 9, 1909, Flandrin shared his impressions: "The energy and good health of these dances are truly admirable and range from Siberian, Hungarian and Neapolitan dances, to the remarkable dances of Les Sylphides, all clad in the white costume of La Taglioni, dancing in the moonlight...". The ballet Les Sylphides was a pure dance performance, with no plot, no subject, but instead a romantic reverie set to the melodious music of Frédéric Chopin.

During these Ballets Russes performances, Flandrin sketched the dancers first hand, simplifying the shapes, more like suggestions than precise contours and figures. Thick and lumpy paint, applied in broad touches, pares volumes down to the essential. Spectral light brings out the sketched, suspended bodies, indicated only by a few brushstokes. The colour blue is used to blend the different planes together. A Marian blue, dear to Flandrin, bathes the étoile couple in a spiritual aura.