Studio Marlot & Chopard, Black Church # 9 and 11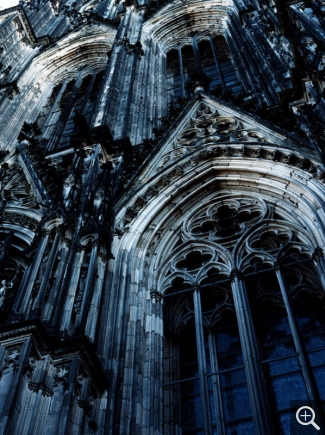 Studio MARLOT & CHOPARD
Black Church # 9
2007
colour photography, C-print laminated on aluminum
160 x 120 cm
© MuMa Le Havre / Studio Marlot & Chopard © Adagp, Paris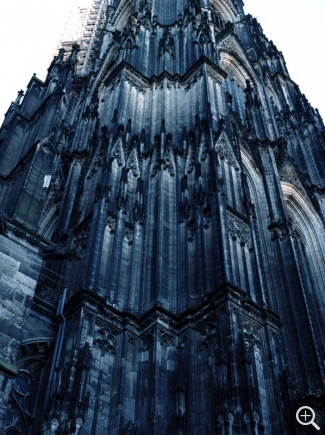 Studio MARLOT & CHOPARD
Black Church # 11
2007
colour photography, C-print laminated on aluminum
160 x 120 cm
© MuMa Le Havre / Studio Marlot & Chopard © Adagp, Paris

Born in Paris in 1972,
Rémy Marlot
studied photography in Chalon-sur-Saône (Nicéphore Niepce museum), Dijon (École des Beaux-Arts) and Paris. In 1999, he began moving toward an exploration of the urban landscape, the garden, dreams and the night. In addition to photography, he works as a videographer with Ariane Chopard-Guillaumot.
In 2007,
Rémy Marlot
took a number of photographs of the Cologne Cathedral. Of the forty-five shots taken (in two hours, after a preliminary survey), eleven make up a homogeneous series called
"Black Churches"
. Backlit and shot from below, these large-format photographs (120 x 160 cm) paint an unexpected image of the building.
The view from below gives a dizzying impression that the artist associates with "elevation" and "spirituality". He explains, "I like this tilting where everything is out of my control... lines stream forth, nothing is contained within the frame, everything extends beyond."
Tightly framed, the facades of the Gothic cathedral take on a monochrome appearance through
Marlot
's lens. The backlighting produces a nocturnal atmosphere, intensifies the contrasts and sculpts each detail of the facade, rendered abstract by the purity and depth of the dark blue colour.
Designed as a series,
"Black Churches"
are a way of paying homage to the series of
"Cathedrals"
painted by
Claude Monet
in Rouen in 1892–1893. Fascinated by the cathedral's ability to dominate them, the two artists transcribe this sensation by bursting the bounds of the frame, as the surface of the building is animated by the subtle plays of light. For did Monet not claim that "everything changes, even stone"?