Mériel, Stairs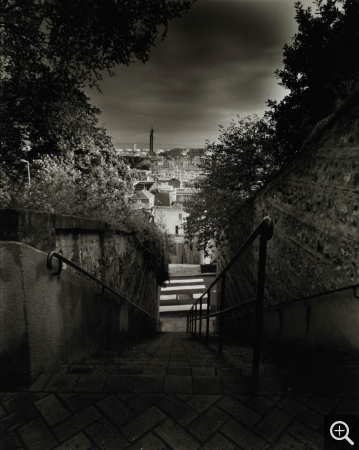 Olivier MÉRIEL (1955)
Stairs
© MuMa Le Havre / Olivier Mériel

Born in 1955, Olivier Mériel lives and works in Saint-Aubin-sur-Mer, in the Calvados region of Normandy, an area to which he is strongly attached and has continuously photographed for the past thirty years. Working on public commissions (Conservatoire du littoral, Maison Victor Hugo, Festival Normandie Impressionniste, etc.) or more personal projects, he has travelled the length and breadth of the region, from coast to hedged fields, making the rare stop in cities, like here in Le Havre.

From October 2003 to May 2005, in the spring and throughout the winter, Olivier Mériel travelled regularly to Le Havre with the aim of making a portrait of the city in around fifty photographs. Strolling about and scouting for locations, he combed the city, from the upper town to the district of Les Neiges below. He set up his heavy view camera, chose his hour, his sky, and then took his shots.
Painstakingly constructed, his images are the result of a long creative process. Mériel develops his own photos, through direct contact of the plate with high-silver-content paper and then toning them with platinum and selenium, which lends density and depth to the blacks, and subtlety to the shadows and light.

Olivier Mériel offers a very personal vision of Le Havre. His forty-five prints, taken just a few months before the city centre rebuilt by Auguste Perret was listed as a world heritage site (July 2005), compose a subtle portrait of this port city and its mix of modern and old neighbourhoods, administrative buildings and little working-class houses, quays, avenues, tiny streets and steep staircases, sea and fields of wild grasses, factories and dry docks... But the artist also opens doors and invites us to enter the mysterious world of the Museum of Natural History's reserves or to warm ourselves at the counter of a café down at the harbour.