Ellena, Le Havre. Lovers at City Hall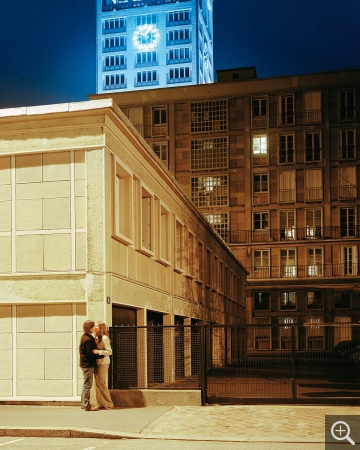 Véronique ELLENA (1966)
Le Havre. Lovers at City Hall
2007
colour photography laminated on aluminum under Plexiglas
© MuMa Le Havre / Véronique Ellena

Born in 1966, Véronique Ellena studied photography in the studio of Gilbert Fastenaekens at the La Cambre school of visual arts in Brussels. She has been exhibiting her series of photographs since 1997: "Sundays" (1997), "Big Moments of Life" (1999), "Classic Cycle Races" (2001), "Those with Faith" (2003). A resident at the French Academy in Rome in 2007, she produced a new series of "Still Lifes" at the Villa Medici. Her most recent work on the homeless ("Invisible") also stems from her time in Rome.

Véronique Ellena came to Le Havre as part of a public commission from the city of Le Havre and the French Ministry of Culture. In 2006, fifty years after Lucien Hervé was awarded the first campaign to photograph Le Havre rebuilt (1956), and one year after the city centre rebuilt by the Auguste Perret studio was listed as a world heritage site (2005), six artists were invited to capture this modern section of the city that most residents still have difficulty accepting. Five photographers (in addition to Véronique Ellena, there were Nancy Wilson-Pajic, Manuela Marques, Charles Decorps and Xavier Zimmermann) and a videographer (Pierre Creton) worked at Le Havre from 2007 to 2009. At the end of their campaign in the spring of 2010, their works were assembled and presented in an exhibition entitled "Le Havre. Images sur commande" organized by the Musée Malraux. Part of the exhibition was also shown in Brazil, in two museums built by Oscar Niemeyer, who was the architect for the new theatre in Le Havre inaugurated in 1982: the Museu de Arte Contemporânea de Niterói (2009–2010) and the Museu Nacional in Brasilia (summer 2010).

Véronique Ellena came to Le Havre in the winter of 2006–2007, soaking up the atmosphere of the city and delving into its history. The modern city calls to mind a theatre set in which nothing is left to chance. She likes the carefully planned perspectives and points of view in which, as on stage, light plays a particularly important role. Véronique Ellena prefers the soft light of dawn or dusk to the light during the day, which she finds too cold. In the evening, the streetlights transform the scenes and give them a film-like quality. The discreet light from apartments shines modestly on the private stages in the street, where passers-by, inhabitants and lovers seem to play their own role. Véronique Ellena offers a calm and silent vision of the city as she gives it the universal image of a theatre of life.