Basilico, Le Havre. Saint-Joseph Church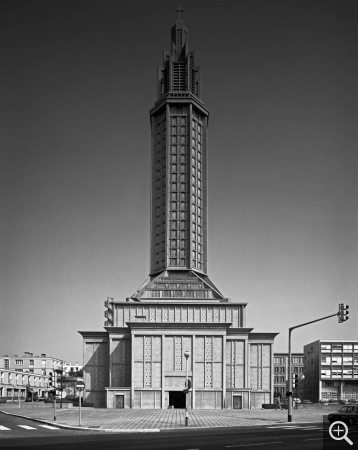 Gabriele BASILICO (1944-2013)
Le Havre. Saint-Joseph Church
1984
colour photography, gelatin silver bromide print
60 x 50 cm
© MuMa Le Havre / Gabriele Basilico

Gabriele Basilico lives in Milan, where he was born in 1944. The winner of numerous prizes, he travels the world, endlessly photographing the changing landscapes of our contemporary society.

In the line of the major public commissions that have accompanied the history of photography since its invention in 1839, DATAR (French Delegation for Territorial Development and Regional Action), a non-cultural organization attached to the French Ministry of Planning, launched in 1984 a vast commission to photograph the French landscape with the aim of proposing "a representation of the contemporary landscape to promote its recognition, understanding and transformation. Gabriele Basilico was one of the twenty-eight artists entrusted with a section of the country, in his case the coast of northern France from Dunkirk to Cherbourg. For six months, Basilico travelled throughout the region, stopping at the small coastal resorts, villages and major harbours of the Atlantic coast, without hesitating to capture in his own way the most clichéd images of the French landscape.

Arriving at Le Havre in 1984, Basilico revisited the city centre explored by Lucien Hervé in 1956 and paused before the most important buildings, including the brand new theatre built by Oscar Niemeyer. No trace of humans, the carefully chosen distance from the subject, the sun at its zenith erasing all shadows, accentuate the monumental and classic nature of the architecture. Basilico pursued his exploration of the city in the areas presenting new economic challenges. Over the decades and through various modernization initiatives, the harbour has become progressively removed from the city centre. Basilico wandered through the quays, warehouses, repair shops and dry docks, applying the same shooting method as for the "historic" centre, which had an ennobling effect on the industrial architecture. But unlike the monumentality of the city centre, the artist saw these developing zones as an opportunity to express the emptiness of new urban spaces, another subject of his photographs.

Basilico gave great importance to this project, which he presented in a publication and no less than three exhibitions. He also included it in all of the retrospectives on his work, discussing it at length and even contemplating renewing the experience.