Ruhlmann, "Meuble à fards" cabinet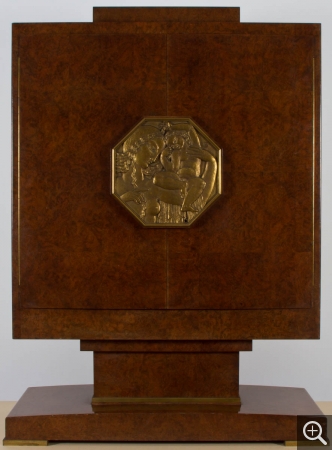 Jacques-Émile RUHLMANN (1879-1933)
"Meuble à fards" cabinet
1929
American burr walnut and bronze
138.5 x 97 x 41 cm
© MuMa Le Havre / Charles Maslard

Jacques-Émile Ruhlmann (1879–1933) was a French decorator and ensemblier, known for the exceptional quality of his wood furniture and his importance as a major exponent of the Art Deco style. In fact, it was at his urging that the famous "Hôtel du collectionneur" pavilion was installed at the Salon Internationale des Arts Décoratifs of 1925 in Paris, a highlight of the event.

Ruhlmann designed intricate models of his furniture, and supervised their execution through his workshops. In 1924, he began working on a configuration that would lead, with variations, to the "meuble à fards" cabinet. Based on current knowledge, there are eight versions of this piece. The cabinet at MuMa, completed in 1929, was purchased by the city of Le Havre in 1982.

This decorative piece of furniture, which serves no useful purpose, consists of a well-proportioned cabinet between a short pediment and an inset vertical leg, set on a plinth and supporting feet. The interior is of blonde oak, the exterior American burr walnut, with a glossy cellulose finish and gilt bronze listel. For the Salon d'Automne of 1913, many of Ruhlmann's models were given distinctive, allusive and often humorous names, such as "salamduch" for "salle à manger Ducharne" (Ducharne dining room), "bibol-stèle" for "bibliothèque" (library), and "stelcavcan" for "argentier en forme de stèle cannelée" (silver cabinet in the form of a fluted stele). The title "meuble à fards", disconcerting for an item that clearly has nothing to do with women's make-up and powders, could be read as "Afar", the name of an ancient East-African people. One of their female dancing figures could have been a source of inspiration for the first lock plate made by Siméon Foucault for this series.



Jacques-Émile RUHLMANN (1879-1933), "Meuble à fards" cabinet, 1929, American burr walnut and bronze, 138.5 x 97 x 41 cm. © MuMa Le Havre / Charles Maslard

Jacques-Émile RUHLMANN (1879-1933), "Meuble à fards" cabinet, 1929, American burr walnut and bronze, 138.5 x 97 x 41 cm. © MuMa Le Havre / Charles Maslard
The copy at MuMa is adorned with a gilt bronze plate and octagonal keyhole chiselled by Alfred Janniot, who is considered one of the great monumental sculptors of the interwar period. This medallion is testament to the valuable contribution sculpture made to decorative arts in the 1930s and serves as a perfect example of the complementarity between art forms. Very similar to the work of a silversmith, it can be described as a genuine bas-relief sculpture integrated into Ruhlmann's furniture. The theme—Eros—is an iconographic hallmark of Janniot. The young god is shown here with Aphrodite, whose Botticellian beauty can be compared to the group of figures Janniot sculpted in 1919 in homage to Renaissance sculptor Jean Goujon (Homage to Jean Goujon, Lisbon, Calouste-Gulbenkian Foundation).