Dupas, The Chariot of Poseidon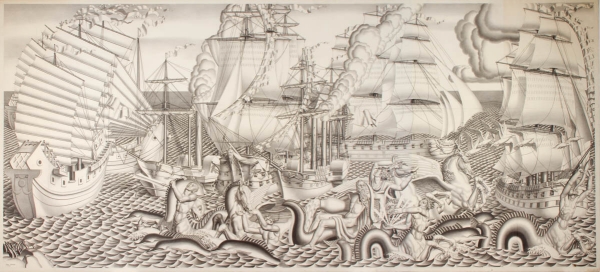 Jean-Théodore DUPAS (1882-1964)
The Chariot of Poseidon
1934
pencil on cloth-lined paper
221 x 477 cm
© MuMa Le Havre / Charles Maslard

Born in Bordeaux,
Jean Théodore Dupas
(1882–1964), at once painter, draughtsman, poster designer and decorator, is a representative example of the Art Deco artist. Alongside Dunand, Janniot and Bourdelle, he participated in Ruhlmann's "Hôtel du collectionneur" pavilion at the Exposition Internationale des Arts Décoratifs of 1925 in Paris. A poster project by
Dupas
for the exhibition can be seen at MuMa.
Dupas
painted his canvases and frescoes in a very Mannerist spirit, rooted in French tradition and strongly influenced by the Renaissance artists. He and Dunand, Janniot and Subes participated in the lavish decoration of the transatlantic ocean liners of the interwar period.
The Chariot of Poseidon
, a large drawing on display in the MuMa collections, was part of the preparatory work for the decoration of the Normandie, inaugurated in 1935.
Dupas
was commissioned with the sizable task of decorating the first class lounge of the liner. He designed the sun, winds and chariot of Aurora for the large lacquered panel by Jean Dunand. He also created the glass panels cladding the four corners of the room with compositions depicting nautical themes:
The Rape of Europa
,
The Birth of Aphrodite
,
The Chariot of Thetis
and
The Chariot of Poseidon
. Spanning a total of 400 sq m, the panels were made of Saint-Gobain gilt glass by master glassmaker Jacques Charles Champigneulle. The full effect of glass painted in gold, silver and platinum leaf was nothing short of sumptuous.
The work on display at MuMa is the final preparatory drawing, after the sketches and more developed drawings, and was used by Champigneulle as a basis for the enlargement. The composition was divided into one hundred 130 x 75 cm panels, which were then placed side-by-side to cover an area 6.60 m high by 15 m wide. Part of the original gilt glass decor of
The Chariot of Poseidon
is on permanent display at the Metropolitan Museum of Art in New York.