Dunand, Taming the Horse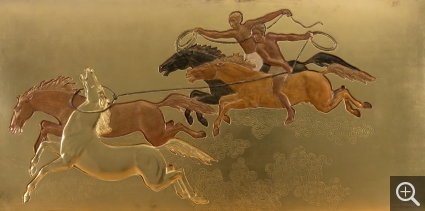 Jean DUNAND (1877-1942)
Taming the Horse
ca. 1935
lacquer panel
80 x 170 cm
© MuMa Le Havre / Charles Maslard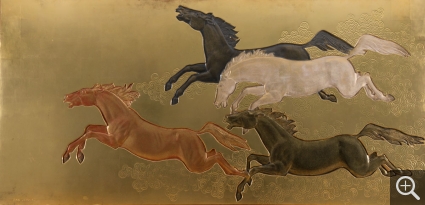 Jean DUNAND (1877-1942)
Taming the Horse
ca. 1935
lacquer panel
80 x 170 cm
© MuMa Le Havre / Charles Maslard

French artist of Swiss birth, Jean Dunand (1877–1942) is renowned for his artistic achievements in sculpture, dinanderie (decorative brassware)—or metalwork—and lacquering. He started out as an apprentice to sculptor Jean Dampt, and worked on the winged horse of the Alexandre III bridge in Paris, before devoting himself fully to dinanderie. His exploration of Asian art and lacquer in particular had a strong influence on his work. In his quest for technical perfection, he worked closely with Japanese craftsmen and developed his own formulations to master a Western lacquer technique.



Jean DUNAND (1877-1942), The Grape Harvest, ca. 1935, lacquer panel, 80 x 271.8 cm. © MuMa Le Havre / Charles Maslard

Jean DUNAND (1877-1942), The Gazelle Hunter, ca. 1935, lacquer panel, 171 x 142 cm. © MuMa Le Havre / Charles Maslard
Like Dupas, Ruhlmann and Janniot, Dunand contributed to the decoration of the great transatlantic ocean liners of the interwar period, including the famous Normandie, inaugurated in 1935.Taming the Horse, a composition of two lacquer panels, is part of a set of five panels on display at MuMa, along with The Grape Harvest, The Gazelle Hunter and Fishing: bas-reliefs carved in plaster and coated with gold leaf and pigments. The panels are original reductions, created by Dunand himself based on the monumental decorations in the smoking room of the Normandie. Dunand also created lacquered panels for the neighbouring grand saloon, which were designed by Jean Dupas. These reductions demonstrate the success Dunand's decorations enjoyed, by the sheer number of motifs he reproduced and adapted to the size of the city's houses and apartments for a wealthy clientele. A number of variations can be found on the market and in public and private collections.

The original decor covered 1,200 sq m and took ;Dunand and his son Bernard a year to complete. The corners of the smoking room were clad with four 6-by-6-metre panels, sculpted in Egyptian-style bas-relief on the theme of Humanity's Games and Pleasures: Fishing and Sports on the majestic staircase, The Grape Harvest and Taming the Horse by the grand saloon. A sliding partition separating the smoking room from the grand saloon was decorated with panels depicting The Hunt. Since the Compagnie générale transatlantique required fireproof materials, Dunand used a very hard kaolin plaster as a base for the lacquer. After the Normandie caught fire in the New York Harbour in 1942, some of the decorations were relocated to the Ile-de-France and Liberté ocean liners.