Lempicka, The Orange Turban II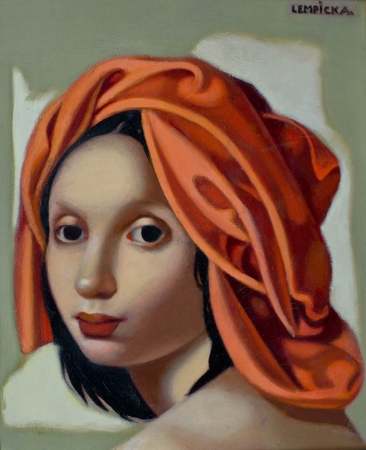 Tamara de LEMPICKA (1898-1980)
The Orange Turban II
ca. 1945
oil on canvas
30.5 x 26 cm
© MuMa Le Havre / David Fogel — © ADAGP, Paris, 2013

Polish artist Tamara de Lempicka (1898–1980) is without a doubt the most famous woman painter of the Art Deco style. Raised in an affluent, cultured family, she spent her childhood in Warsaw, St Petersburg and Lausanne. She moved to France after the October Revolution, where she began her painting career, first studying under Maurice Denis and André Lhote. Her life, personality and work are closely linked. Her self-portrait of 1929, in which she depicts herself behind the wheel of a sports car, is emblematic of the luxury and modernity that marked the Roaring Twenties. Her paintings portray elegant, sophisticated women and men, sometimes striking sensual poses, with sculptural bodies and faces. Her painting epitomizes an Art Deco style derived from a compound of age-old traditions and bears the stamp of Renaissance art.

Painted in vivid colours, The Orange Turban II is the idealized portrait of a young woman with an intense, inquisitive gaze and elegant posture. It is undoubtedly the subject Lempicka replicated the most. A late inscription on the back of the painting indicates "June 1935", but research has shown that the work dates instead to just after the war, around 1945. There are eight known versions of this composition, the last of which was done in 1979, more than thirty years after the one at MuMa.

Tamara de Lempicka's ambition was to create a new style, which, once perfected, she pursued faithfully throughout her career. Parallel to that, however, she experimented with abstract painting, although these works remain largely unknown.

After the war, her work was forgotten, only to be rediscovered along with the Art Deco movement in the 1970s. In 1976, the artist donated twenty-three of her works to the State, three of which can now be found in the MuMa collections: The Orange Turban II (c. 1945), The Chinaman (1921) and Graziella (c. 1937).