Lhote, Trees at Avignon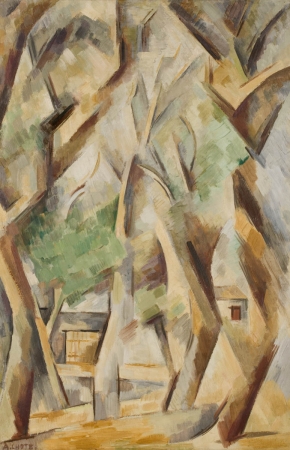 André LHOTE (1885-1962)
Trees at Avignon
ca. 1909-1910
oil on canvas
81.5 x 54.3 cm
© MuMa Le Havre / Florian Kleinefenn — © ADAGP, Paris, 2013

Following his studies at the École des Beaux-Arts in Bordeaux,
André Lhote
(1885–1962) was first a sculptor, then a painter. In 1912, he joined the Section d'Or, also known as the Puteaux group, a collective of artists and critics associated with Orphism, a poetic branch of the Cubist movement. One of the theorists of Cubism, he contributed to its emergence alongside Braque, Picasso, Gleizes and Metzinger. His practice is characterized by a desire to demonstrate modernity in relation to tradition, as opposed to breaking with it. A legacy of classical painting, either through the subjects or the rigorous compositions, can still be found in his work.
Lhote
welcomed the role of teacher, opening in 1921 an academy on rue d'Odessa in Paris that attracted a number of students, including Tamara de Lempicka, Henri Cartier-Bresson and William Klein.
Trees at Avignon
, undoubtedly painted around 1909–1910, features the narrow range of whites, ochres and greens from early Cubism, and the lively, colourful touch borrowed from Cézanne that gives rhythm and unity to the composition. Facets thoroughly covered with thick paint capture the shimmer of light on the earth and pines of this Mediterranean undergrowth, but inhibit the flow of air and subtle effects of depth. Brushstrokes of the same size and direction form shapes like paving stones that lend solidity to this skyless landscape. In this composition,
Lhote
uses open contours, one of the stylistic innovations from the last work by Cézanne, which, in his 1904 painting
Mont Sainte-Victoire
, foster dialogue between shape and colour. But unlike what can be observed in Cézanne's works, the regular rhythm of the branches here possesses a certain decorative effect.
This painting was purchased by Charles-Auguste Marande, presumably very shortly after its completion. For his collection, and for those of the other members of the Cercle de l'Art Moderne, it remained the only work of Cubist art acquired in Le Havre.