Boutet de Monvel, New York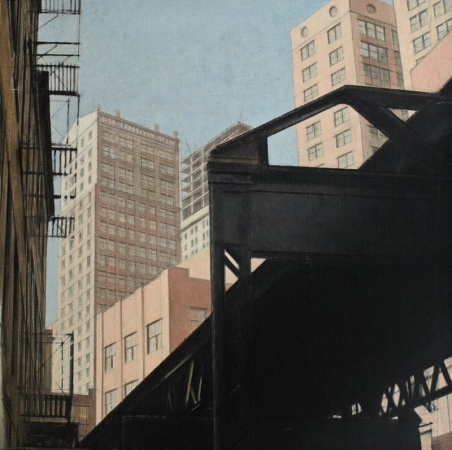 Bernard BOUTET DE MONVEL (1881-1949)
New York
oil on canvas
42.1 x 42.5 cm
© MuMa Le Havre / David Fogel — © ADAGP, Paris, 2013

Bernard Boutet de Monvel (1881–1949), often described as a society portraitist, belonged to the renewal period of French decorative arts, which created more modern lines through contact with Cubist geometry. Like geometric constructions, the city, by its profusion of signs and its orthogonality, is synonymous with modernity.
Boutet de Monvel stayed in New York for the first time in 1926, the year he began working as an illustrator for Harper's Bazaar magazine. The first European artists to take on New York in 1915, Duchamp, Picabia, Gleizes, were struck by the fast-paced life of the city. Upon his arrival, ten years later, Boutet de Monvel provided a different view of the city, predominated by architectural lines.

Boutet's New York is anonymous. He painted the modern nation through its factories and buildings. Driven by strong contrasts, framed from a hard low angle, the painting is like the duplicate of a photographic image asserting its artistic nature. Following a technique he used his entire life,Boutet first photographed his subject, then employed the grid method to transfer the enlarged image to the canvas. During this process, he eliminated any superfluous detail. In this way, he captured the city's skyscrapers in a dizzying series of shots from which he then derived his paintings.

Boutet de Monvel produced around twenty paintings of New York during his years in America, mainly between 1928 and 1932, while pursuing a successful career as a high-society portrait painter.