Dubuffet, Ontogenesis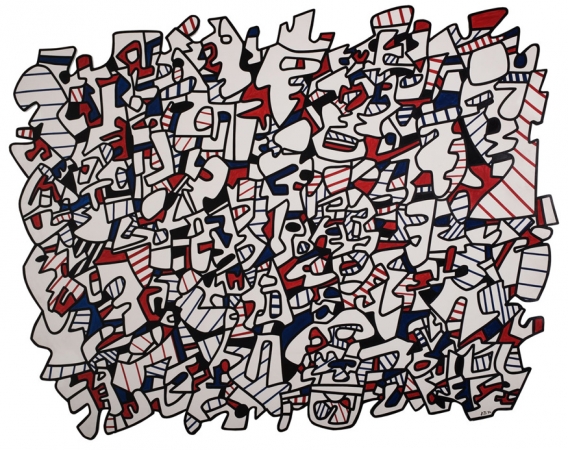 Jean DUBUFFET (1901-1985)
Ontogenesis
1975
vinyl on panel
251 x 316 cm
© MuMa Le Havre / Florian Kleinefenn — © ADAGP, Paris, 2013

Painter, sculptor and visual artist from Le Havre, Jean Dubuffet (1901–1985) was the first theorist of what he called "art brut" [Fr.: raw art], a spontaneous art, devoid of any cultural influence, and unattached to any particular thought process. His work holds a very special place in 20th-century art. Rejecting anything of an academic nature, Dubuffet saw the painter as a kind of ferryman, halfway between the philosopher and the poet, who paves the way for discontinued thought. He promoted the spontaneity of automatism, which resulted in his creation of the "Hourloupe" cycle, featuring hatching and pockets of white, blue, red and black inspired by the doodles he made with a ballpoint pen while talking on the telephone.

In 1962, Dubuffet began systematizing these drawings in series, thus inaugurating his longest cycle, pursued until 1974. It was also his most original cycle, with truly unique works that defied all classification. The word "Hourloupe" was originally the title of a small book by the artist containing red and blue ballpoint pen drawings. With Hourloupe, in reaction to his earlier textural works, Dubuffet worked with cells in quadrichrome, hatching and solid colour, which he reproduced in paintings, sculptures and vast installations. He made the switch from oil paint and natural materials to vinyl paint and markers. Ontogenesis, a vinyl painting on laminated panel completed in 1975, is part of this cycle. The title refers to the development of a being, from conception to maturity.

Dubuffet donated the piece to the museum following an exhibition on his work in 1977.