Boudin, Study of the Sky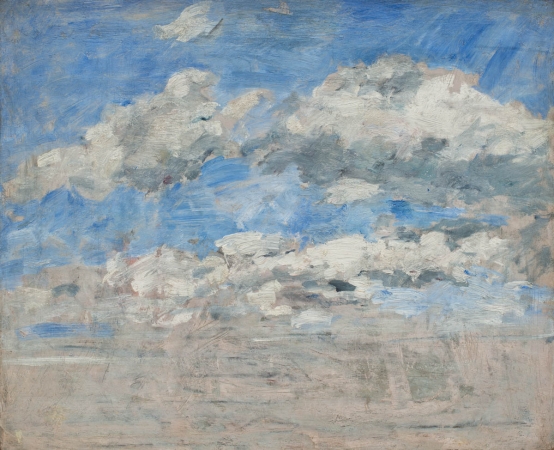 Eugène BOUDIN (1824-1898)
Study of Clouds, Blue Sky
ca. 1888-1895
oil on wood
37 x 46 cm
© MuMa Le Havre / David Fogel

Charles Baudelaire was the first to note, in 1859, that Eugène Boudin (1824–1898) had in his atelier "hundreds of pastel studies improvised before the sea and the sky", describing them as "the prodigious magic of air and water". That same year, fellow artist Gustave Courbet, painting at his side, exclaimed: "My God, you are a seraph, Boudin! You are the only one of us who really knows the sky!" In his quest for light, the man who wanted to "swim in the open sky" executed over the course of his career hundreds of studies of the sky and clouds in pencil, pastel, watercolour and oil.

MuMa holds two separate sets of sky studies. The first is the more recent addition to the collection with seventeen oils on paper or board. Assembled by Olivier Senn, a collector from Le Havre and great admirer of Boudin's work, they are fascinating evidence of the artist's early interest in changing weather conditions. Some of these sketches include handwritten notes by Boudin, who jotted down weather observations and made more personal or poetic remarks similar to those found in his letters and journal (hence, "frais et tout calbotté", an adjective used in the Pays de Caux area for curdled milk). The studies undoubtedly predated the pastels Baudelaire saw, unless they were immediate contemporaries made between 1848 and 1859.

The second set, donated by Louis Boudin in 1900, includes eight later oils on wood, executed around 1888–1895. While the first small-scale works are studies out of doors, like snapshots that strive to describe a specific state of the sky as scrupulously as possible and some of which include detailed hand-written notes, the second set, vigorously done with thick paint and bright colours, are more like free variations that the artist, at the end of his life, takes with obvious jubilation to the limit of abstraction.