Boudin, Pardon of Ste-Anne-La-Palud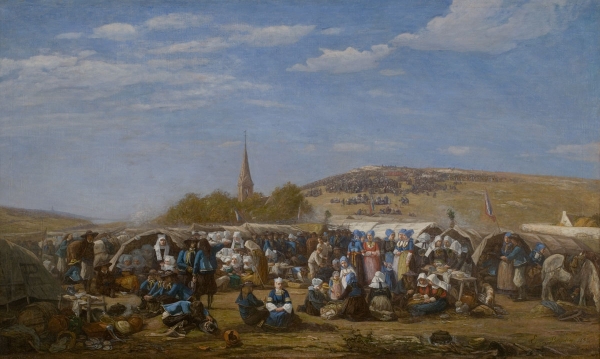 Eugène BOUDIN (1824-1898)
Pardon of Ste-Anne-La-Palud
1858
oil on canvas
87 x 146.5 cm
© MuMa Le Havre / Florian Kleinefenn

Born in Honfleur and schooled in Le Havre, Eugène Boudin (1824–1898) visited Brittany for the first time in 1855 and travelled there regularly for the next three years. Drawn to the picturesque region, he was interested in the simple life of the peasants from the Finistère and proved to be a keen-eyed witness to their way of living.
During his second sojourn in 1857, the artist attended the pardon of Ste-Anne-La-Palud, one of the region's biggest and most popular religious celebrations, which traditionally takes place the last weekend of August. He seized the opportunity to paint his first piece for the Salon.

Boudin made a number of sketches of the event. Focusing on the secular aspect of the celebration—bowing to the public's tastes of the time—, he depicted the crowd camped in the countryside below, busy with preparations for a picnic lunch, and set the pilgrims gathering at the chapel in the distant background. The artist gave detailed descriptions of the local costumes, the women's white headdresses, and everyday objects.

The artwork was presented at the 1859 Salon de Paris, where it earned the praise of Baudelaire who described it as "bon" and "sage", a good and careful picture. The artist's first entry, this painting marked his debut on the official art scene. The city of Le Havre, which had granted Boudin a scholarship in 1851, purchased the painting in 1860 for 500 francs—a significant amount considering that still-lifes and landscapes could be negotiated for around 50 francs at the time. The only painting of its kind in the artist's career—in 1863, Boudin began sending seascapes and beach scenes to the Salon—, the Pardon of Ste-Anne-La-Palud marked the end of his formative years.